CORE quarterly report on inquiries and complaints – Q4 2021-2022
Inquiry and complaint statistics are posted on a quarterly basis throughout the fiscal year (April – March).
An inquiry is a request for information about filing a complaint, or a request to file a complaint about an issue that is clearly outside the CORE's mandate (for example, a complaint about something that happened in Canada).
A complaint is about an issue that may be within the CORE's mandate.
More detailed information on inquiries and complaints will be provided in the CORE's Annual Report.
Fourth quarter 2021-2022
Highlights:
One complaint:

A complainant asked to re-open their complaint initially filed in the 1st quarter of 2021-22. The CORE had closed the file when the complainant did not respond to the CORE's request for additional information. The CORE is currently assessing the admissibility of this complaint.

Thirty-six (36) inquiries:

Twenty-one (21) inquiries were about issues that took place in Canada.
Three (3) inquiries were received by telephone and we were unable to reach the callers.
Eleven (11) inquiries were about issues outside the CORE's mandate (e.g., immigration, misrepresentation, a software app, etc.).
One (1) inquiry appeared to raise an admissible issue but the inquirer did not respond when invited to provide more information.
Fig. 1 Snapshot of Inquiries and Complaints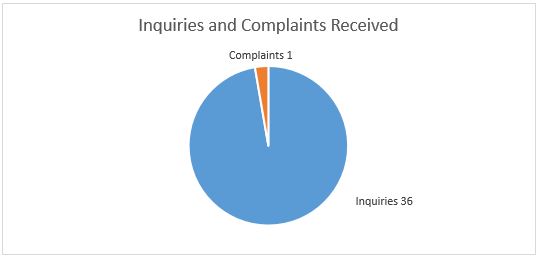 Text version

Numbers of new complaints and new inquiries received in this quarter. The CORE received thirty-six inquiries and one complaint.
Fig. 2 Admissible Complaints, by Sector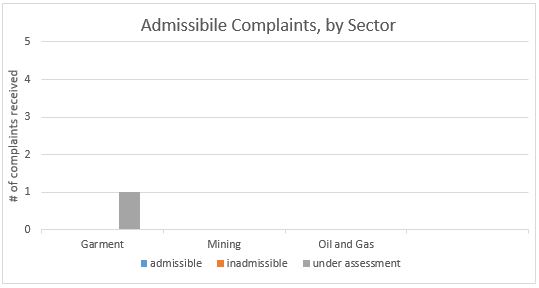 Text version

Numbers of complaints received in this quarter that are admissible, inadmissible or under assessment. Sectors include Garment, Mining and Oil and Gas.

The CORE received one complaint in the garment sector and no complaints in the mining and oil and gas sectors.
*As explained above in "Highlights", the complaint currently under assessment is not a new complaint.
Fig. 3 Inadmissible complaints, by reason for inadmissibility
Text version

Reasons for inadmissibility of new complaints broken down by number and per reason. They include outside of permissible timeframe, not outside Canada, not a Canadian company and not a human rights abuse. The CORE received no inadmissible complaints.
*A complaint may be inadmissible for more than one reason. For more information regarding the admissibility criteria, please consult section 5 of the CORE's Operating Procedures.
Report a problem on this page
Date Modified: