Quarterly report on inquiries and complaints – Q4 2022-2023
The CORE publishes statistics about inquiries and complaints every three months (quarterly) from April to March (the fiscal year).
An inquiry is a request for information about filing a complaint or a request to file a complaint about an issue that is clearly outside the CORE's mandate (for example, a complaint about something that happened in Canada).
A complaint is about an issue that looks like it may be within the CORE's mandate. The CORE provides more information about inquiries and complaints in its annual report.
Fourth quarter 2022-2023 (January 1, 2023 – March 31, 2023)
Highlights of this quarter
Complaints
Two new complaints received:
One complaint received in this quarter was assessed as inadmissible because after an intake interview with the Complainant, it was clear that it did not involve a possible human rights abuse within the CORE's mandate. The file was closed and the complaint was referred to another forum.
The admissibility of a second complaint received in this quarter is being assessed. The complaint alleges abuse of the human rights of Indigenous Peoples in the mining sector in Pakistan.
One complaint from the previous quarter (Q3, October 1, 2022 – December 31, 2022) alleging abuse of the right to freedom of assembly and association in the garment sector in Honduras is admissible and has moved to the initial assessment stage.
Inquiries
One-hundred and twenty-three new inquiries were received during this quarter and referred to another forum or organization for assistance.
Summary of current complaint caseload
Fig. 1 Current complaint caseload by complaint stage and sector
Fig. 1 Text version

A bar graph depicting current complaint caseload broken down by stage in the complaint process and sector. There is 1 complaint in the mining sector at the intake stage; 13 complaints in the garment sector and 2 complaints in the mining sector at the initial assessment stage.
Fig. 2 Current caseload of complaints by country of occurrence
Fig. 2 Text version

Number of current caseload of complaints broken down by country of occurrence: 1 is from Bangladesh; 1 is from Honduras, and 13 are from China.
Summary of all complaints received
Fig. 3 Number of all complaints received broken down by admissibility and inadmissibility

Footnote

1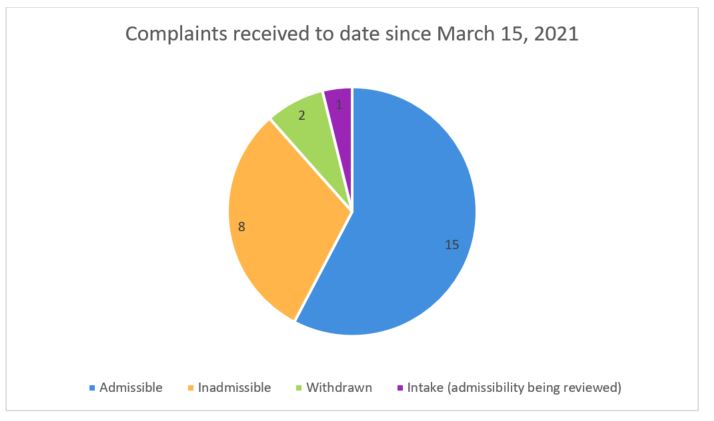 Fig. 3 Text version

| | |
| --- | --- |
| Admissible | 15 |
| Inadmissible | 8 |
| Withdrawn | 2 |
| Intake (admissibility being reviewed) | 1 |
| Total | 24 |
For information on past inquiries and complaints, please see our previous quarterly reports:
Q1- Q3 2021 – 2022 March 15 - December 31
Q4 2021 – 2022 January 1 - March 31
Q1 2022 – 2023 April 1 - June 31
Q2 2022 – 2023 July 1 - September 30
Q3 2022 – 2023 October 1 - December 31
Report a problem on this page
Date Modified: